JANUARY 14 MEETING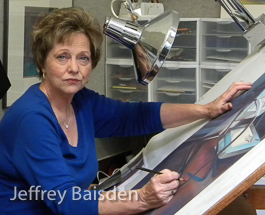 Our guest presenter is  Jeffrey Smart Baisden, CPSA. 
Ms. Baisden received her degree in Art Education from Florida State University.
Her work has been featured in solo and juried exhibitions and has won numerous awards across the USA. She was accepted in eleven CPSA International Exhibitions receiving Awards of Excellence in 1996 and 2001 and top award at the 2003 Explore This! in Stuart FL.
She is published in The Best of Colored Pencil II, III, IV, and Colored Pencil Explorations. Magazine features include the cover of Art Calendar magazine and articles in American Artist and North Light Magazine.
Jeffrey served on the Governing Board of the Colored Pencil Society of America as District Chapter Development Director and is a past president of the DC113 Gainesville, FL.
She developed fine arts programs during her high school teaching career and now teaches workshops throughout the country.
For the CPPG program,  Jeffrey plans to  demonstrate using various colored pencil surfaces including Uart Standard paper and mounting and working on cradle boxes.
JANUARY WORKSHOPS
All members are encouraged to attend our Colored Pencil Workshops on Monday JANUARY  5, and JANUARY 19 (Laurel Manor and Wednesday JANUARY 28  (Lake Miona).
MINIATURE ART EXHIBIT – JANUARY 28th
Notice that the size of the painting on the left by Melissa Miller Nece is only 2 1/2 x 4 1/2 inches. 
It is an example of the work that will be on display at the exhibit when we visit next month.
If you haven't already made your reservation to hop on the bus for a day in Tarpon Springs, be prepared to sign up at the December meeting … or contact Sondra Wiggins or Renee Conboy before the meeting. Space is limited!
$30 covers all costs except lunch.
CPPG SHOW WINNERS SEPTEMBER 2014
400
true
thumbnails
under
400
true
true
1600
none

UPCOMING PROGRAMS
JANUARY
JEFFREY BAISDEN,
CPSA PRESENTATION

FEBRUARY
JAN JONES
"WONDERFUL, COLORFUL
WHITE"
JAN JONES
MARCH
DIANA GARRETT
PRISMACOLOR REPRESENTATIVE


APRIL
CRITIQUE
MAY
EMERGING ARTIST EXHIBIT
SWAP TABLE
JUNE
JACKIE ULLRICH
"PHOTOGRAPHS ARE
NOT THE ONLY SOURCE"

JULY
BUS TRIP